B-52's Adventures!
2008

The B-52's put out they new album and toured both as the headliners and as a part of Cyndi Lauper's True Colors Tour. Donna, her friend Liz and I saw them in Seattle on July 1st they were on the True Colors Tour. It was a fun time, Heather, I don't think we will vote her off the Island :)
| | |
| --- | --- |
| The B-52's | |
| | |
| Cyndi Lauper | |
| | |
| Carson Kressley | |
| | Rosie O'Donnell |
2005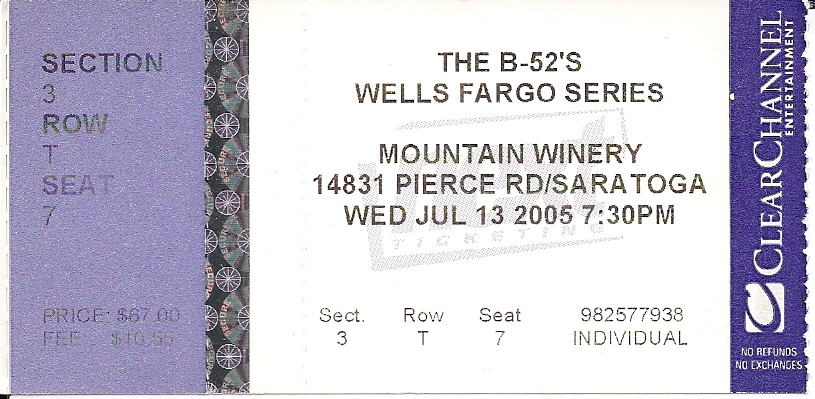 It was time to take the girls to see The B-52's, we went to Saratoga, which is the same place Heather and I saw them in 2001. Unfortunately, they took my camera as we were going in so I couldn't get any photographs :(
2004
Heather and I went to see the B-52's in Las Vegas again, this time we chose Mandalay Bay to stay at. The concert was in the beach area which was rather cool and different. Below is a picture of the beach area from our room. If you look in the Larger Pool toward the top of the picture, you will see a covered area, that was the concert stage. During the concert, lots of people (including us) were in the pool.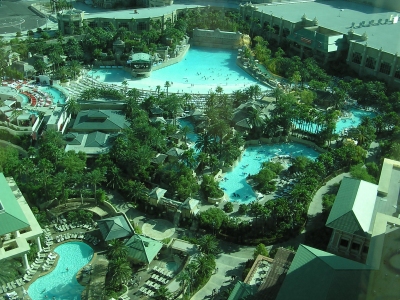 Here are a couple of shots from the concert.
2003
Well, we missed seeing the B-52's last summer, but we made up for it this trip. Heather, Mary and Elizabeth flew to Las Vegas.
Lucky for us there was a book signing the afternoon before the concert. So we all went....
| | |
| --- | --- |
| | Here is Elizabeth with Mats, the author |
| | |
| --- | --- |
| Here's Elizabeth with Pat, Kate, and Sara | |
At Paul's suggestion, I took a picture of my license plate, printed it, and got everyone to sign it, starting with Kate at the book signing.

While she was signing my book, I also asked her for back stage passes, and she said YES!!!!

Heather and Mary were as shocked as I was.
| | |
| --- | --- |
| Here's where we're going tonight!!!! | |
| | |
| --- | --- |
| | We arrived at the Hilton...... |
| | |
| --- | --- |
| .......picked up our pass!!!! | |
| | |
| --- | --- |
| | We saw Eric who we had met previously in Las Vegas and at Shoreline. |
Some pictures from the concert
Pictures from backstage.
| | |
| --- | --- |
| We all got our tickets signed. | |
2001
This year Heather and Elizabeth went to see the B-52's in Saratoga. Even though we didn't get backstage this time, we had a great time.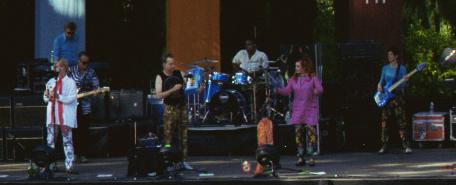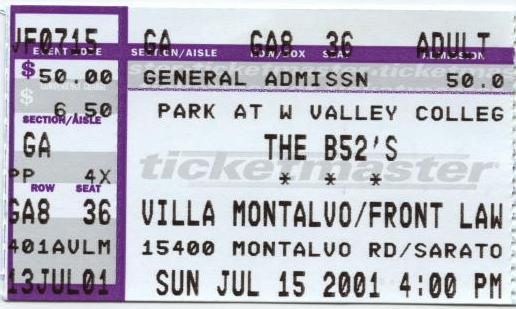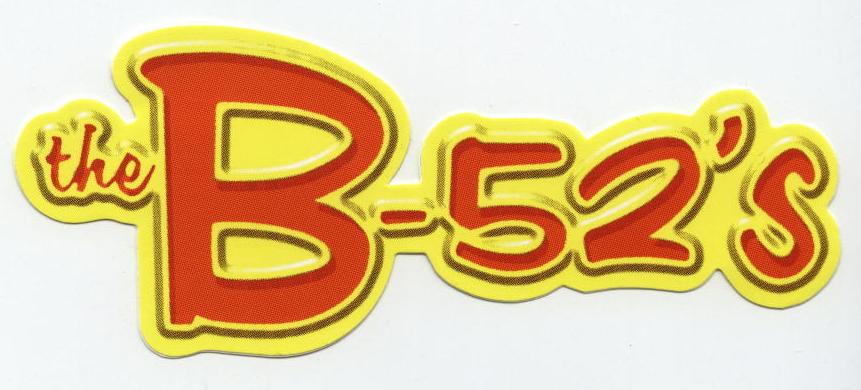 2000
This year we went to see the B-52's at the Shoreline Amphitheatre in Mountain View. This year we dragged Wes with us. We saw the Psychedelic Furs, The Go Go's, and the B-52's! It was, as usual, a great show. Heather and I came prepared, we brought enlarged pictures from last year (see above), special pens to write on the pictures, and the back stage pass from last year (just in case).
Unfortunately, it was a different pass so that angle didn't work. Heather did her best to try and convince the security guard to get us back stage, but it didn't work. We then tried the Promotions Director for the local radio station (her name was Robin), she wouldn't let us backstage, but took our pictures with her. One girl came from backstage and gave Heather her pass, I ran along down with her. Then she was stopped by the security guard by the band and about the same time, the security guard from the door also came down and got upset because I didn't have a pass, well we both got kicked out. But the good news is we saw the B-52's and Robin got our pictures signed by Fred, Kate and Cindy!!!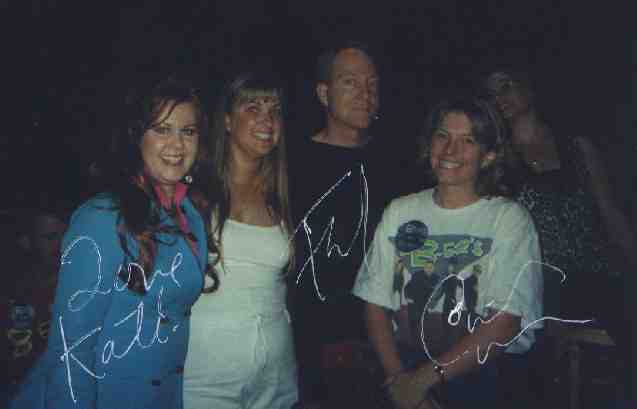 1999
When we left for the concert at the Hard Rock Hotel, we left the camera at the hotel as not to get it taken away from us at the Hard Rock, but as soon as we got into "The Joint" at the Hard Rock Hotel we noticed everyone taking pictures! We decided that just incase we were to meet Fred and Kate, we should get a camera.
How many was that Heather?
| | | |
| --- | --- | --- |
| The show was great (as usual) after the show, Elizabeth was given a pass to go the the party upstairs. Heather and Elizabeth frantically searched through the hotel trying to find out where upstairs was. | | THE PASS!!! |
Thank god we had a camera!, because I'm not sure we would have believed it in the morning, but we met Fred and Kate!!!!!
We also met a guy from LA named Gilbert who took our picture with his camera. He had the film developed and took it to another B-52's concert the next Tuesday, and had Kate sign pictures for Heather and Elizabeth. Surprisingly, Kate remembered us from Las Vegas!
1998
Heather and I's first B-52's concert together. We drove to the Mid State Fair in Paso Robles and watched the B-52's and the Pretenders. They put on a great show and we decided that we should try and go every year.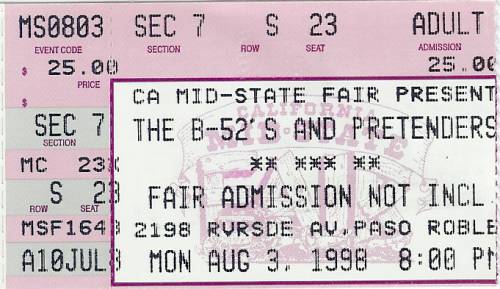 1992
When I arrived in Milwaukee, I was surprised to see the B-52s were playing while I was there. I knew no one who might want to go with me, so I bought one ticket. Luckily on my second day there, I met Paul, who bought a second ticket and went with me. We had a great time together.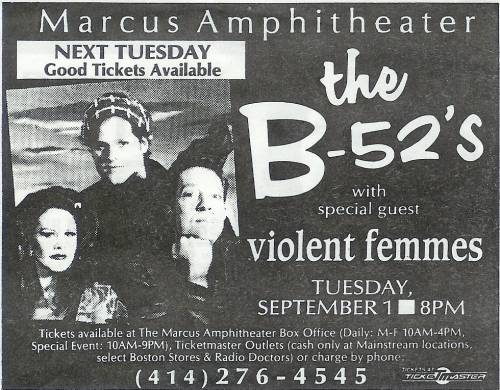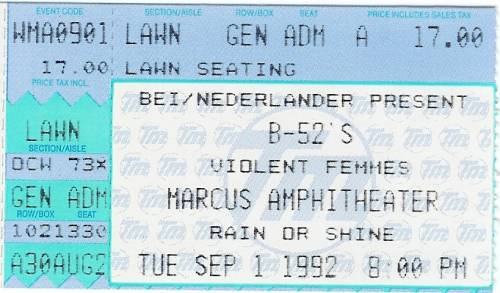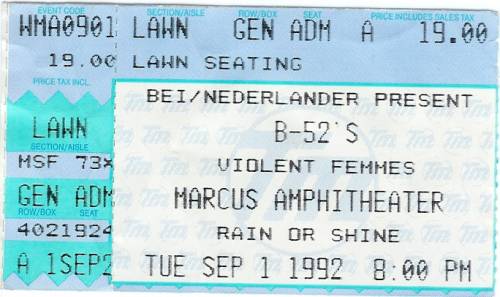 In October of the same year, the same tour came to Sacramento and Donna and I took David to his first concert, the B-52's!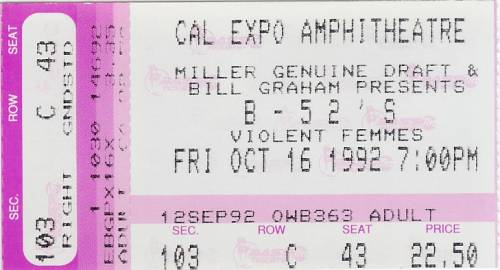 1990
The next time I went to see them was at Shoreline in August of 1990.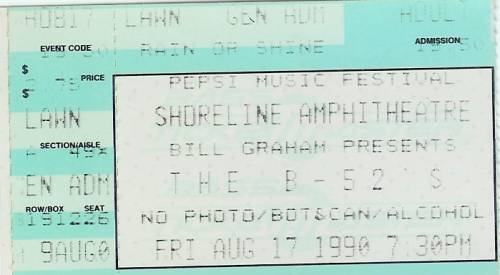 1989
It all started back in 1989 when Donna took me to my first concert which also happened to be a B-52's concert. It was in San Francisco, at the Civic Auditorium. People everywhere, girls with beehives and lights in those beehives too.